Making Sense of Formula*
The AAP suggests we exclusively breastfeed until one year, yet 75% of American women are combination feeding by the time their baby is six months old. Many families will not be breastfeeding at all, yet are given no guidance from providers other than "all formulas are the same."
This class helps participants:
Normalize formula as a perfectly healthy way to nourish your baby

Understand the different varieties of formula on the market and how to distinguish the differences from one another

How to find the best fit for your baby's needs

Discuss the ingredients, the variables, European formulas, and how to switch comfortably from different formula products



This class does not replace "Infant Care and Feeding"
*This class should be taken AFTER an Infant Care and Feeding Class

Format - Live interactive Online Group - One (1) Hour
Cost: $40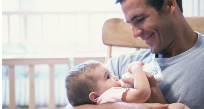 (c) 2012 City Births, LLC. All Rights Reserved